---
God is in it all – the good, the bad and the ugly. – David Palmer
Sunday 17th Feb 2018
I spent the day tramping on Mt Taranaki, specifically up the Kahui track to Kahui hut and beyond to Black Rock. On the way just before getting to Black Rock I stopped to take a photo of a little flower I had been seeing along the way. It is a New Zealand eyebright (Euphrasia cunate)
 
A pretty little flower – truth be known I actually needed a rest and taking photos is as good an excuse as any; 3 hours uphill takes it out of you. I reached Black Rock for lunch – it was an overcast day, cloud sitting on the Mountain not far above; rather dull, cool and breezy but a clear view out over the Taranaki Ring Plain to the coast; it is the reason I go up there on my own; peace, quiet and inspiring I guess. With lunch over I started back down and again I stopped to photograph a plant I had been noticing; the Mountain Snowberry (Gaultheria depressa var. novae-zelandlae) its berries were larger, redder and many more than I had noticed before.
 
So carrying on down the track, one of the oldest on the mountain, not used much now and is rather overgrown so I had to focus on not tripping up over the Astella, but out of the corner of my eye something made me stop. Something bright and unusual, something that just needed to be looked at again. I found that it was just a bunch of lichen, just an ordinary dull bit of lichen growing on a dead stick. But on this dull cloudy day this bunch of lichen glowed out its presence to me and made me stop even though I had already stepped past. So I had to photograph it too.
 
Not very pretty, not very colourful or showy just there growing on a dead stick. And so as I walked on I started to think about these seemingly random moments to look at and photograph these plants and what it all meant. It said to me that you don't have to be bright, colourful, showy or glorious for God to be in you, for God to meet with you, for God to touch your heart. That God is in all creation; that the dull, ugly, crippled things growing on a dead stick are still part of Gods creation; that they too are part of him and his creation story and  worthy of notice.
Later further down the track it happened again. I stopped because out of the corner of my eye I noticed a colour unusual in the NZ bush; bright orange, and so this got photographed. And then again, red on a branch above the track. It was several Scarlet Rata Vine flowers (Metrosideros Fulgens) unusual to see because the possums love rata flowers.
 
It seems God wanted me to notice the unusual, the colourful and the dull ordinary on this day.
Sunday 18th Feb 2018 – Morning prayer
Heavenly Father thank you for yesterday's tramp and the things I noticed along the way. Rata vine flowers, that bunch of lichen, fungi, and petite flowers. Each part of your creation; some things are glorious and beautiful, others you can walk past and miss completely. Thank you for the lichen, that the light was shining on it on an otherwise dull day. Thank you for stopping me to have another look. Thank you for reminding me that You are in everything even the dull and unlovely. That it doesn't have to be a glorious bloom or sunset to be part of your creation. Thank you Lord.
Monday 19th Feb 2018 
And so comes Monday morning and my devotion time. I have been following the word 'Disciples' through scripture each day, reading a chapter with a reference to Disciples in it. Monday's chapter was Matthew 26 – in the NIV at least Disciples is used 11 times in this chapter of 75 verses. The three I chose to focus on for my "thoughts" regarding this chapter were:
 Matthew 26:1
"Then they will go away to eternal punishment, but the righteous to eternal life." When Jesus had finished saying all these things he said to his disciples, 
This follows Jesus speaking about separating the Sheep and Goats – When did we see you hungry or thirsty, or a stranger etc.
Matthew 26:19
"Go into the city to a certain man and tell him, 'The Teacher says: My appointed time is near. I am going to celebrate the Passover with my disciples at your house." So the disciples did as Jesus had directed them and prepared the Passover.
This follows Jesus instructing the disciples to meet with the man who will let them use his room for the Passover.
Matthew 26:56
"But this has all taken place that the writings of the prophets might be fulfilled." Then all the disciples deserted him and fled.
This follows Jesus' arrest at Gethsemane.
Monday's thoughts from these verses
Such a contrast, from listening to His instructions, to obeying His instructions, to running scared at His arrest. But all this was necessary; what use is a dead disciple, what use is a second hand witness, who would go on to spread the Gospel? Too often we condemn people for their actions or inaction (think of Judas) but their role is often the hardest part of God's plan to complete. If Judas hadn't betrayed Jesus or Peter hadn't denied Jesus, or Jesus hadn't accepted the cup or Pilate hadn't condemned Jesus or the people hadn't chosen Barabbas; the story of Easter, God's plan for our redemption would be quite different from the one we know now.
Monday morning Prayer
Heavenly Father there is so much in our world that is wrong, that could be changed for good; that needs attention; that never should have been. And yet amongst it all You reside, Your hand is in control of it all. Thank you that you do meet with us on occasion to get us to notice. Thank You that you build into our lives the troubles, the hard stuff, the challenges of life so that our story will follow Your plan; so that our Gospel will make a difference to someone else's redemption journey. Thank You Lord.
What do I think it all adds up to?
From all this God seems to be telling me that a Disciple needs to notice all that God is placing in their path, for the Disciple to notice all the good, the bad and the ugly and recognise that God is in it all. That a Disciple must be ready to be obedient, observant and discerning of God's teaching and instruction even if it brings about difficulty and hardship; that every now and then you must stop, go back a step and have another look. That a Disciple must above all things have a story as to how God has walked in their life, this story is the Disciples' journey with God; it is their Gospel.
Recommended Posts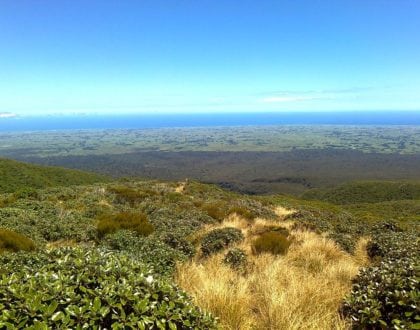 August 31, 2018